Under Biden, crossing the border has become a lottery for migrants. Timing is everything.
As dawn broke over a shuttered flea market in Mission, Texas, on May 25, Anna and her 7-year-old son, Walter, sat sobbing on the curb. Anna and Walter, of El Salvador, had once again been caught by the Border Patrol trying to enter the U.S. undetected, and they feared a repeat of what happened the last time they were caught.
In April, U.S. border agents had sent them back into the Mexican city of Nuevo Laredo, where, Anna said, they were kidnapped and held for $10,000 ransom.
"I'm afraid that they are going to send me back to Mexico," she said. "I don't want to go back. I am afraid there. I am very afraid." Walter huddled next to his mother, clutching his stuffed dinosaur, named Señor Dinosaurio, as he cried.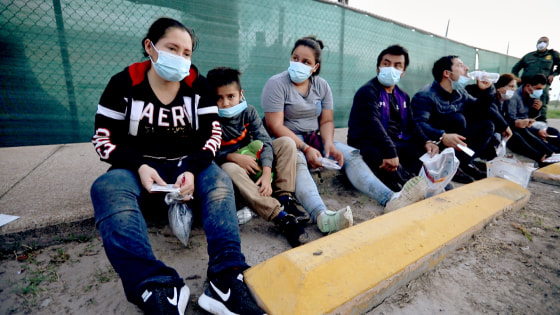 While they sat on the curb, waiting to find out what U.S. officials would do with them, 15 single adult men who had been caught crossing the border a few days earlier were released to a nearby shelter, where they waited for flights and buses that would take them to cities across the U.S.
There they would reunite with family members and wait to have their asylum cases heard by immigration judges. They knew they were among the lucky ones.
"Sometimes I ask myself why they had me and they deported others," said a 20-year-old Nicaraguan, who said he left home to find work and was now headed to Miami. "And I give thanks to God."
When he took office, President Joe Biden loosened rules at the border, letting children without parents cross — but agents were supposed to expel all other undocumented migrants.
The policy allows the Biden administration to say, "The border is closed."
In reality, the border is not closed. Under Biden, the determination of who stays and who goes has become a lottery with winners and losers. Timing is everything, the merits of an asylum claim often beside the point. On some days here in the Rio Grande Valley, the busiest section of the U.S.-Mexico border, families like Anna and Walter are expelled, while on others, single males who've come looking for work are allowed to stay pending their hearings.
The reason, said Brian Hastings, sector chief of the Rio Grande Valley Border Patrol, is that some enter on days when Mexico cannot take them back.
Hastings said 17 percent of all families and single adults apprehended by his agents this year have been released into the U.S., much as they would have been before the Trump administration began using the Covid-19 restrictions known as Title 42 to begin denying access to asylum-seekers last year.
Borderwide, about 15 percent of single adults and 65 percent of families are released into the U.S. rather than expelled, according to Customs and Border Protection data from April.
Hastings said they are released not because of official Biden administration policy but because Mexican authorities refuse to take back more than a certain number each day.
"When they run out of shelter space, a lot of times they were telling different Border Patrol sectors, 'No, we can no longer take any additional people, because we don't have additional housing or we don't have additional space in a lot of our facilities,'" he said.
It has been known that Mexico's capacity issues triggered the release of some families. But NBC News witnessed firsthand how the arbitrary nature of the practice can put vulnerable people in dangerous situations while granting relief to others seemingly for no other reason than that they crossed the border at the right time.
Hastings said he thinks the way Title 42 is being enforced makes it difficult to send a consistent message to would-be migrants about what will await them if they decide to make the journey to the U.S., which he strongly discourages.
A spokesperson for the Department of Homeland Security acknowledged that its ability to expel migrants can be limited by "Mexico's ability and capacity to receive those individuals."
"Individuals who are not able to be expelled are placed in immigration proceedings pursuant to the law," the spokesperson said. "The Biden administration has made it clear that our borders are not open, people should not make the dangerous journey, and individuals and families are subject to border restrictions, including expulsion."
Risking it all
Still, every day, hundreds, even thousands, of migrants follow "coyotes," or human smugglers, onto U.S. soil, some willingly turning themselves into the Border Patrol and others hoping to make it through undetected.
By 9:30 a.m. Tuesday, the Border Patrol in the Rio Grande Valley had already apprehended a group of 101 migrants from many countries — El Salvador, Ecuador, even Romania — on a dirt road close to the Rio Grande. Little children sat on the ground, exhausted and covered with dust, their heads buried in their hands. Pregnant women cupped their bellies and arched their backs on the side of the road, trying to rest after the long journey.
Abandoned shoes floated in puddles, and colored plastic bracelets littered the ground. The coyotes give migrants the bracelets to track their customers.
"It's very difficult in my country," said Sara Judith, a Honduran woman who had been apprehended with her 10-year-old daughter. "There's nothing."
Read Full Article: Under Biden, crossing the border has become a lottery for migrants. Timing is everything.